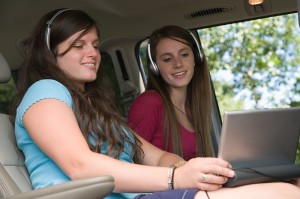 Ways To Connect With Your Family While In The Car
Many of us spend hours commuting each week. During many of these trips we are taking our kids to and fro to their events or just to school. Weekend trips can result in even longer car rides to visit a fun family destination. Instead of everyone tuning out and losing themselves in their technology, you can find ways to connect with your family.

Use this time to get to know each other better and even find some teachable moments. The questions and topics below will give you a starting place. Simply ask everyone to turn off their devices and talk to each other. This idea may meet with resistance in the beginning. If so, agree to use a portion of the time to connect and the rest the kids can use to listen to their music of whatever is allowed in your car.
One great thing to do while driving is find teachable moments. Explain things you see as you drive, such as some new construction going on and why it is good or bad for the community. These types of teachable moments are imperative for us with an autistic child. This child doesn't naturally infer the things we so often take for granted.
All kids can benefit from these types of discussions. Discussion on what you see around you can start easily and naturally and become great teachable moments. One idea is to have each person in the car ask a question or start a discussion about something they can see from their window that inspires them.





Use the following questions as a way to connect with your family:
What is your top accomplishments?

What do you want to be when you grow up? This question is appropriate even for adults!

What scares you the most?

What activity brings you the most joy?

What song most accurately describes your life?

Where would you love to live and why?

Where have you always wanted to visit?

Play 20 questions

Plan your future

Plan your next vacation, get everyone's input.

Ask who their favorite person is and why.

Ask who they admire the most.

What are you most proud of?

Talk about the books each of you is reading. Discuss the story and how it relates to real life.

Talk about geography, why the river meanders and how the mountain got so tall.

What is the best quality a friend can have?

What can you do to make tomorrow a great day? (or today if it is just starting)
Stories on the radio can be a great starting point for a discussion as well. If you love to listen to NPR like my husband, the stories can inspire many a great conversation.
How are you using car time with your family now, do you talk or does everyone tune out and do their own thing? Which ways to connect with your family can you begin implementing tomorrow?

I seek to love and enjoy life, not just for a moment but the whole journey.

My mission

is to help you love and enjoy life too.

I've been stressed out, burned out, and hopeless and I clawed my way out of that place and now have the life I always wanted.

I see other busy women (like you) living the same busy pattern and my goal is to guide you on the path to enjoying and loving life.

Get my free 15 minute quick overwhelm relief video at http://www.LoriThayer.com.
Disclosure: Please note that some of the links on this site are affiliate links and I will earn a commission if you purchase through those links. These are all resources that I am recommending because they are helpful and are companies that I trust, not because of the commissions that I may earn from you using these products. Please do not spend money unless you really need the resource and it will help you reach your goals.