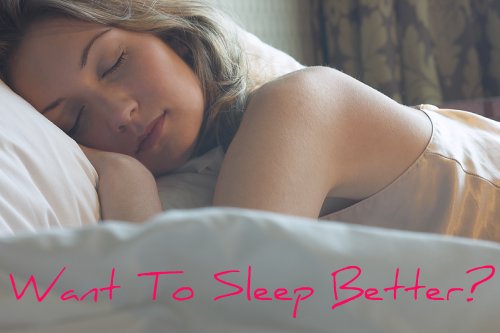 Want To Sleep Better? I Found The Answer.
There are a lot of methods out there to sleep better. I've tried the majority of them and found little success. Today I want to share with you the #1 way I found to sleep better.
Sleep is essential to optimizing your life. If you aren't sleeping well your body can't repair itself and work the way it needs to. You may find yourself tired all day long, frustrated, angry, and unhappy. A host of other problems can result from a lack of quality sleep like memory problems, brain fog, clumsiness, inability to concentrate and more.

If you visit the Doctor for a sleeping problem most likely they will give you Ambien or some other drug, assuming you are able to demonstrate that the problem is significant. This is a bad idea. These drugs have terrible side effects and you will probably find it hard to get up in the morning and grogginess throughout the day.
I struggled with significant sleep issues for several years. I tried blackout curtains, making sure the room was absolutely dark, melatonin, 5-HTP, valerian root, exercise, changing my sleep routine, acupuncture, the zeo machine and many other things with very limited success.
My Doctor gave me several different kinds of sleeping drugs over the years. Ambien would only let me sleep for 4 hours so the dose kept getting increased, great. The problem was I still didn't "feel better" even though I slept. The quality of sleep wasn't good or natural. I tried other sleeping drugs with time release too. I was wary of taking drugs and would only take the Ambien or others when I was desperate to get some sleep but they were never the answer I needed.

Then I got the Silva Life System because I wanted to get better at meditation and the program was intriguing. I didn't realize it when I purchased it but it can be used to improve your sleep. It teaches a simple sleep technique. I tried it the first night I learn it and slept really well. I thought it might be a fluke but I kept using it and was able to sleep better each time. No longer was I waking up almost every hour, I slept soundly through the night.
If you've read some of my articles you are probably aware that I LOVE essential oils. They have many uses and are a more efficient, natural way to help you feel better. However, although I know the oils help a lot of people achieve better sleep they never worked for me. I don't know why.
You may have achieved better sleep with a different product or technique, if so I would love to hear about it in the comments. If you are still searching, try Silva. I did not expect it to work after failing with so many other efforts. I couldn't be happier at finally having found the answer that enabled me to sleep better.


I seek to love and enjoy life, not just for a moment but the whole journey.

My mission

is to help you love and enjoy life too.

I've been stressed out, burned out, and hopeless and I clawed my way out of that place and now have the life I always wanted.

I see other busy women (like you) living the same busy pattern and my goal is to guide you on the path to enjoying and loving life.

Get my free 15 minute quick overwhelm relief video at http://www.LoriThayer.com.
Disclosure: Please note that some of the links on this site are affiliate links and I will earn a commission if you purchase through those links. These are all resources that I am recommending because they are helpful and are companies that I trust, not because of the commissions that I may earn from you using these products. Please do not spend money unless you really need the resource and it will help you reach your goals.