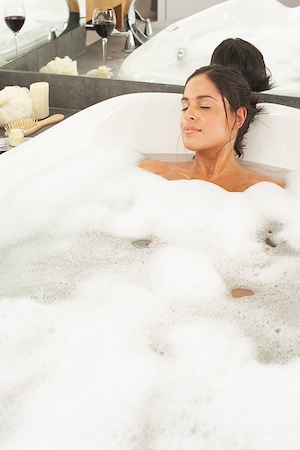 Use all 5 Senses For A More Relaxing Bath
A bath can be the best way to relax and get away. We all need time to recharge. When you are in the bath, the family knows that they should leave you alone (if they don't, set that rule today). This article will focus on how you can use all 5 senses to take a more relaxing bath.
A Sight To Behold
Our sense of sight helps to set the mood. Make sure your bathroom is picked up and clean. If there is a mess you won't be able to relax no matter how many other tips you use. Note – you could try just closing the bathroom curtain on your mess, but you'll still know it is there so it won't be as effective as you hoped.


Bring spa-like qualities to your bathroom

Fluffy towels and bathrobes that await you when you are done will bring a smile to your face and make your bathroom feel like a spa.

Plants are a great addition to a bathroom to achieve a spa feel, choose some that will do double-duty and clean the air

Lighting is crucial to a relaxing bath

Turn down the lights with a dimmer or turn them off entirely

Use candles to create a soothing, relaxing atmosphere

Warning – lighting a lot of candles in a closed bathroom can result in smoke marks on your walls (I know from experience). Instead light one real candle and then use led candles to get the effect you desire.
Relax Your Mind Through Your Hearing
Put on some relaxing music. I started a Pandora station with music by Enya and this is the most played item while I take a relaxing bath. What is the music you prefer to relax with. Share your favorites in the comments.

Nature Sounds – aside from music the sounds of nature are very soothing. Listen to crashing waves, rain, crickets, a campfire or any other sound you prefer. 

Meditation – you certainly can meditate in silence but I generally prefer to listen to a guided meditation or at least some binaural beats. 

For guided meditations I listen to Silva programs as I like how they teach you to form your own meditations and program your mind.
For binaural beats, try Omharmonics (also a great accompaniment to Silva programs)
Soothe Your Sense Of Smell
Aromatherapy

Lavender will relax and calm you. It is a must in every bath I take.

Chamomile is not only calming in your tea, it is also a great essential oil to add to your water for a more relaxing bath.

Ylang Ylang or Jasmine are great if you aren't going straight to bed afterward. They both have aphrodisiac qualities and can be invigorating. These two oils are good for dry skin and can be used together.
A Spa Experience Through Sensation
E

psom

 salts are a great additive for baths. Add 1-2 cups to your bath water. Epsom salts will give you a great magnesium boost and can help with pain, fatigue, relaxation, stress, and even digestion issues. Learn more about the health benefits of epsom salt baths.

silky skin

Wear a face mask for extra pampering. Be sure to wash it off thoroughly when you are done.
Relax Your Sense Of Taste
Bring a nice hot cup of tea, glass of wine or other treat to enjoy while you bath an relax.

A few nice pieces of dark chocolate would be a lovely treat while you bathe.

Consider enjoying a nice glass of wine.
What are your best tips for a relaxing bath? Share them with us in the comments below.

I seek to love and enjoy life, not just for a moment but the whole journey.

My mission

is to help you love and enjoy life too.

I've been stressed out, burned out, and hopeless and I clawed my way out of that place and now have the life I always wanted.

I see other busy women (like you) living the same busy pattern and my goal is to guide you on the path to enjoying and loving life.

Get my free 15 minute quick overwhelm relief video at http://www.LoriThayer.com.
Disclosure: Please note that some of the links on this site are affiliate links and I will earn a commission if you purchase through those links. These are all resources that I am recommending because they are helpful and are companies that I trust, not because of the commissions that I may earn from you using these products. Please do not spend money unless you really need the resource and it will help you reach your goals.