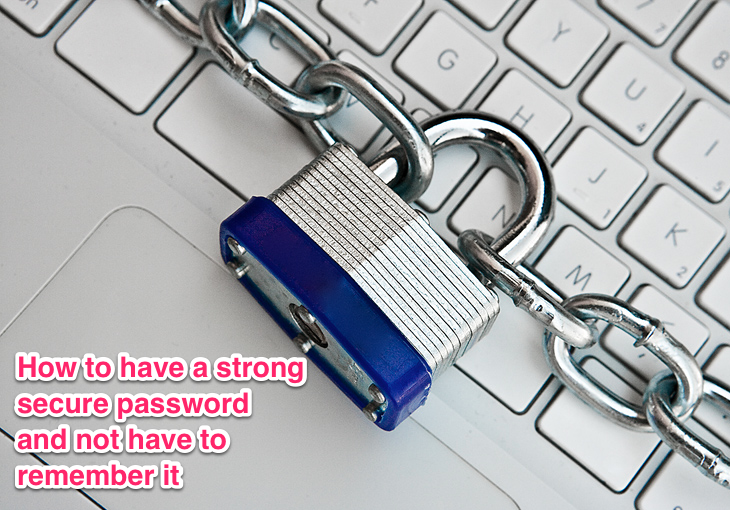 How To Have A Strong Secure Password And Not Have To Remember It
Having a strong secure password is getting more and more difficult. The best password you can use combines capital letters with lowercase letters, special characters, numbers and is at least 8 characters in length. To come up with a password that meets all of this criteria and is memorable can be difficult. However there is a way, I'll share my secret to create, save and not have to remember passwords!
There are a lot of great tips online on how to create a strong secure password that is complex but easily remembered. However, the problem is you need passwords on so many websites and you really shouldn't be using the same password on any two sites. 
So how are we to remember passwords for dozens of sites? The task seems daunting and almost impossible. If you are like me you've found yourself using the same or almost the same password on a lot of sites. This makes the password easy to remember but leaves us vulnerable. If a hacker figures out your password on one site they can try it again on many other sites and be successful at causing you all sorts of problems.
My saving grace has been an application called 1Password. This application works on Windows, Macs, and your mobile devices. You can also set it up to sync between all of these devices so your passwords are accessible no matter which device you are using. This is not the cheapest solution for a password management solution but it is a very good one (the best in my opinion). I've used this application for over four years and been very happy with it.

How to create strong secure passwords
1Password will help you create a strong secure password by generating complex passwords for you. Simply open the application and click to add a new login. Now click the button for generate password. You will have the option of creating a random password or a pronounceable password. You will have other options to custom the length, etc. Once you have a password you are satisfied with simply copy and paste it into the website when you are creating or changing a password. Be sure to also create or update your 1Password login with this new random password.

How to not have to remember your passwords
Now that you have a strong secure password how do you remember it? 1Password this easy when you install their browser extension on your browsers. No matter which you use: Firefox, Chrome, Safari or Internet Explorer you can add 1Password to your browser.
This will be an icon that shows on your browser. When you want to log in to a site for which you have a password you can simply click on the icon, enter your master password and then either search  for the name of the site and click it to go to the site and login or if you are already on the website 1Password will show that you have a login and you just click it and it will enter your login information and sign you in.
Would you like tutorials on how to use 1Password? Let me know in the comments.

I seek to love and enjoy life, not just for a moment but the whole journey.

My mission

is to help you love and enjoy life too.

I've been stressed out, burned out, and hopeless and I clawed my way out of that place and now have the life I always wanted.

I see other busy women (like you) living the same busy pattern and my goal is to guide you on the path to enjoying and loving life.

Get my free 15 minute quick overwhelm relief video at http://www.LoriThayer.com.
Disclosure: Please note that some of the links on this site are affiliate links and I will earn a commission if you purchase through those links. These are all resources that I am recommending because they are helpful and are companies that I trust, not because of the commissions that I may earn from you using these products. Please do not spend money unless you really need the resource and it will help you reach your goals.