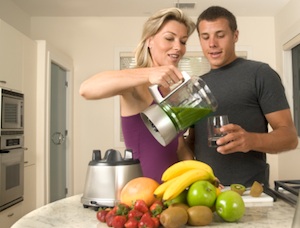 Simplify Your Life With An Easy Nutritious Breakfast
By: Lori Thayer
The secret to a fabulous day is to start it off on the right foot. A key ingredient in that recipe is an easy, nutritious breakfast.
No one intentionally starts their day off badly but often something happens to get us there. We wake up late, or skip breakfast and try to subsist on coffee. Soon you are so busy with the kids or stuck in a meeting and there is no time to even eat anything.
Then you get hungry, irritable, you snap at your children or just aren't on your best game at work. The food we start our day with can either set us up for success or failure.
Simplify your life with a breakfast that is nutritious, easy and fast. A smoothie in the morning is a great way to sneak in more nutrition than you might guess. You can squeeze your daily servings of fruits and vegetables into one glass if you want! (more on that below)
A breakfast smoothie contains ingredients you probably already have on hand. Simply place them in your blender and process for a few minutes. Breakfast is ready in no time and cleanup is a breeze.
Today we will cover three levels in breakfast smoothies. The levels are based on my opinion of the nutritional value of the ingredients used for the smoothies.
Option One
This recipe is the first smoothie I started with. It tastes great and is very easy to make. This smoothie is all fruit and very yummy.
Easy Mixed Fruit Smoothie
1/2 c plain nonfat yogurt
1/2 orange (peeled, but leave the white part on)
1 banana
1/2 c strawberries
1/4 ice cubes
Blend for several minutes, serve and enjoy!
Fruit smoothies are a great way to start your breakfast smoothie habit. To increase the nutritional value add in some ground flax seed for additional fiber and Omega 3s. Feel free to experiment with other supplementation as well such as additional protein.
Time Saving Tip: Prepare your smoothie the night before and keep cold in the fridge. Then just grab it on your way out the door.
Option Two
The next option is using mixes for your smoothie, actually a specific mix called Shakeology. It would be impossible for you to make a smoothie with the variety of healthy ingredients here. There are several flavor options with a new Tropical flavor soon on the way.
My husband drinks the Greenberry flavor daily while my stepson makes a Chocolate Shakeology every morning. Smoothie mixes are a fabulous way to continue your nutritious breakfast when you are out of town or on vacation.
I alternate the chocolate flavor with option three smoothie described below.
Option Three
The last option is fabulous as you can buy from your local, organic farmers and prepare it fresh every morning. No packaging involved!
To really pump up the nutritional value of your morning breakfast make a green smoothie. These may not look appealing but they can be just as tasty as fruit smoothies.
Did you know that it is possible to get all of your daily fruit and vegetables servings in your green smoothie?

Adding leafy greens to your smoothie is incredibly easy. Start slowly by adding spinach into your current fruit smoothie. No need to do anything fancy here, get a large bag of spinach and add a handful. Once you are used to that add two handfuls. I use the large bags of spinach from Costco!
Expand into other greens, there are so many options. I currently enjoy a green smoothie made of water, spinach, kale, 1/2 banana, ice, lemon essential oil and a drop or two of stevia. 
Sometimes to change things up I add my greens to my chocolate shakeology. It looks terrible but it still tastes good!
Find great green smoothie recipes at Green Smoothie Girl. As you start blending greens and whole fruits that are more dense you may want a high speed blender. A regular blender may leave some chunks in your drink that you would prefer not to have. I use a BlendTec high speed blender and I love it.
Cleanup Tip: Fill your blender with 1-2 cups of water (depending on how large your blender is) add a few drops of dish soap and blend for a minutes. Rinse and dry.
What is your favorite smoothie recipe? Share in the comments below or on Facebook.

I seek to love and enjoy life, not just for a moment but the whole journey.

My mission

is to help you love and enjoy life too.

I've been stressed out, burned out, and hopeless and I clawed my way out of that place and now have the life I always wanted.

I see other busy women (like you) living the same busy pattern and my goal is to guide you on the path to enjoying and loving life.

Get my free 15 minute quick overwhelm relief video at http://www.LoriThayer.com.
Disclosure: Please note that some of the links on this site are affiliate links and I will earn a commission if you purchase through those links. These are all resources that I am recommending because they are helpful and are companies that I trust, not because of the commissions that I may earn from you using these products. Please do not spend money unless you really need the resource and it will help you reach your goals.