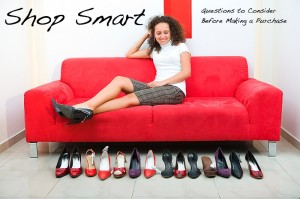 Shop Smart – Questions To Consider Before Making A Purchase

Whether you love to shop or just find it a necessity of life you can decrease hassle in your life when you shop smart.  One way to shop smart is to ask yourself some questions before making a purchase. The answers to these questions will help you shop smart by choosing the right store and the right price point for your purchase.
Before making your next purchase consider these questions:
How expensive is this item?
Generally the more expensive the item the more you want good service from the store including a good return or exchange policy. Getting a deal on an expensive item if it means there are no returns or you need to do a large amount of setup to make the item work it may not be your best choice.
Is this the type of item for which I would usually want a warranty?
When purchasing an item that usually comes with a warrant you may want to take special care. Often these items are more expensive or more prone to damage. Choosing the right store is imperative. We will cover how to choose the right store in more detail in the next article in the Shop Smart series.
How likely am I to have issues with it or want to return it?



For some items this may be obvious. With electronics it will generally behoove you to purchase them from a store that will back up their product and repair or replace a faulty item. If you spend $100 in plants during the spring and half of them die you will be much happier if you buy them from a nursery or other store that guarantees them for a certain amount of time. 
How Long Do I Expect This Item To Last?
This is a question that is really helpful to ask when clothes shopping. If you are purchasing a trendy item it may not matter if it is of lesser quality since the trend won't last forever. However you may want to consider cost per wear when purchasing your basic, everyday jeans. Spending a little bit more for a quality item that will last years is better than twenty dollars on jeans that start to fall apart after 10 wears.
How will I use this item?
Recently my husband and I decided to purchase some outdoor furniture for our porch. We had a swing which I loved but after having it for years I found we didn't use it a lot since you can only swing for so long. It wasn't very comfortable to read a book while swinging and I certainly couldn't work on my computer, nor was there a place to set a drink down while out there. So we decided to shop around for some furniture that would accomodate these wishes. After looking at a few we found a great set at Costco for way more money than I had in mind. 
Even thought the cost was higher than I wanted I could see the use long ranging use of this furniture. It was comfortable enough that we could spend hours outside. I sat outside for eight hours last Sunday and loved every minute of it. The less expensive sets would have fit our wishes but for only an hour at a time at most.
We have since ended up with two of these sets (of two chairs and a small table) and it has transformed how we use the porch. It is truly an outdoor living space now whereas the porch was largely ignored before. We eat breakfast out there on the weekends and I can spend hours out there reading books, working on the computer or just chatting with my husband, kids or neighbors. (I am sitting out on the porch now and while the neighbor kids are playing outside loudly next door and it is a bit distracting I am much happier out here than I would be inside)
Ask yourself how the item will be used. Does it just have one specific use or is it multi-purpose? Can it replace several items you have already or is it really a duplicate of something you already have and really unnecessary? 
What are your top considerations when making a purchase? How will asking yourself the questions above help you shop smart. Share your thoughts in the comments below.

I seek to love and enjoy life, not just for a moment but the whole journey.

My mission

is to help you love and enjoy life too.

I've been stressed out, burned out, and hopeless and I clawed my way out of that place and now have the life I always wanted.

I see other busy women (like you) living the same busy pattern and my goal is to guide you on the path to enjoying and loving life.

Get my free 15 minute quick overwhelm relief video at http://www.LoriThayer.com.
Disclosure: Please note that some of the links on this site are affiliate links and I will earn a commission if you purchase through those links. These are all resources that I am recommending because they are helpful and are companies that I trust, not because of the commissions that I may earn from you using these products. Please do not spend money unless you really need the resource and it will help you reach your goals.