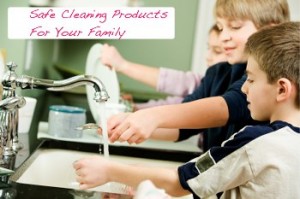 Safe Cleaning Products For Your Family
By: Lori Thayer
Are you worried about the toxic chemicals in the cleaning products you use? These chemicals are very dangerous. Reading the labels on these items is scary. Most aren't safe enough to have on your hands and if your child ingests one there is a trip to the emergency room.  Use safe cleaning products that won't harm your kids.
No wonder parents are reluctant to have their kids do chores around the house. You can't possibly watch them every minute and who wants their kid to handle toxic chemicals. If you aren't sure what chemicals are toxic print off this list and compare it with the labels of your cleaning products. We all have at least a few on the list sadly.
There are many options for safe cleaning products however. See my Pinterest board on cleaning tips for a lot of great ideas.
A few of my favorites for safe cleaning products:
Baking Soda
Baking soda can be used to clean almost anything and the super bonus, it is really cheap. Buy it in bulk at your local warehouse store.
Thieves Household Cleaner
Another great item to buy in bulk. Thieves household cleaner is so safe you can use it on your body or your child's and there is no danger. (find it here)
Mix it to make these cleaning products:
1. Hand Washing liquid
2. Laundry Detergent
3. Dishwashing detergent
4. Shower Spray
5. Counter Spray
6. Window Cleaner
Thieves Household Cleaner ingredient list: 
Water

Alkyl Polyglucoside

Sodium Methyl 2-Sulfolaurate

Disodium 2-Sulfolaurate

Thieves®†

Tetrasodium Glutamate Diacitate

Citrus Limon† (Lemon) Peel Oil
† 100% pure therapeutic-grade essential oil
Vinegar
Vinegar is another safe cleaning product to purchase in bulk at your local warehouse store. 
Set out a bowl of vinegar overnight to remove stubborn odors.
Remove corrosion or chemical buildup from showerheads or faucets by soaking parts in vinegar overnight.
Clean out your clogged drain with vinegar and baking sode. Pour 1/2 cup of baking soda down the drain. Follow with 1/2 cup of vinegar. When the mixture stops bubbling rinse thoroughly with warm water.
Lemon Essential oil
We find lemon in many cleaning products. Why? Because it is has many amazing properties. It is naturally antiseptic and great smelling. Lemon essential oil makes a great cleaner for your produce. Add a few drops to a bowl of water and then dunk your produce to clean it. 
Another great use is to remove gum, grease, oil or crayon. Just use 1-2 drops of lemon essential oil.
Add 10–15 drops of lemon essential oil to a gallon of carpet cleaning solution to help pull out stains, brighten carpet and rugs, and leave a fresh smell in the room.
Purification Essential oil
Purification cleanses and disinfects the air, removing smoke and other disagreeable odors. Purification also disinfects and can be used on the skin to clean cuts. 
Check out this article for more great tips on using purification essential oil to clean.
Don't be afraid to throw our the toxic chemicals. Please consider putting them in the trash rather that dumping those chemicals down the drain where they get added to the public water supply. 
Share your safe cleaning products with us in the comments below.

I seek to love and enjoy life, not just for a moment but the whole journey.
is to help you love and enjoy life too.  I've been stressed out, burned out, and hopeless and I clawed my way out of that place and now have the life I always wanted.  I see other busy women (like you) living the same busy pattern and my goal is to guide you on the path to enjoying and loving life.
Disclosure: Please note that some of the links on this site are affiliate links and I will earn a commission if you purchase through those links. These are all resources that I am recommending because they are helpful and are companies that I trust, not because of the commissions that I may earn from you using these products. Please do not spend money unless you really need the resource and it will help you reach your goals.