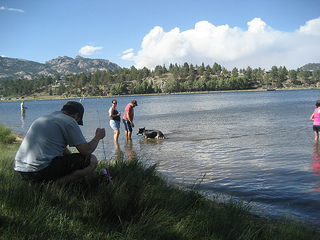 Spend Quality Time With Family Friends To Enrich Your Life
Our relationships with others give us some of the greatest joy in our lives. Spending quality time with family friends is a great way for two or more families to enjoy each others' company. The kids get to play with other kids while the adults get a chance to relax, talk and enjoy some beverages.
Finding a fun activity makes this quality time even more enjoyable. The next time you plan to get together with family friends consider some of these ideas:
Visit a festival
Your town has many free festivals so check your local paper. Festivals are a great low-cost activity for families.
We recently enjoyed a Scandinavian Festival with some family friends. At this festival we tried some foods, viewed interesting wares and listened to some music. 
Enjoy some camping
Camping is a great way to spend quality time with family friends. We have several regular camping trips we do each year with different family friends. It is a great way to connect with them over a 2-3 day period. Many fond memories come from these types of trips.
Our kids love to sit around the fire and tell ghost stories. During the day the kids love to climb nearby rocks and find other nearby activities like enjoying some water, horseback riding or riding their bikes.
Note – the photo for today's article came from a recent trip we took with another family of 5. We camped, attended a festival, spent the afternoon at a lake and generally had a wonderful time.
Visitor a local park
Picnics and bbqa's are a classic way to spend quality time with family friends. The kids can run around and enjoy themselves while the adults catch up. Picnicking at a park is a fun way to get the whole family outside having a good time.
Bring some games to entertain everyone:
Bocee Ball

Baseball

Soccer

Volleyball

Horseshoes
If the park has a lake or river enjoy some of these activities:
Boating

Swimming

Fly-fishing or tackle fishing

Tube down the river
Activities to enjoy inside with family friends
When the weather doesn't cooperate and you need to stay inside, try these board games:
Pictionary

Life

Scene it

Monopoly

Apples to Apples (Jr. version is a favorite with our kids)

Don't forget the classic playing cards as well
Video games can be enjoyable as well. We like to choose ones that 4 people can play and that involve movement. It is also nice to pick games that are easy to learn. These could include:
Sports games like wii bowling          

Dance games like Just Dance or Dance Central

Auto-racing, especially MarioKart
What are your favorite ways to spend quality time with family friends?

I seek to love and enjoy life, not just for a moment but the whole journey.

My mission

is to help you love and enjoy life too.

I've been stressed out, burned out, and hopeless and I clawed my way out of that place and now have the life I always wanted.

I see other busy women (like you) living the same busy pattern and my goal is to guide you on the path to enjoying and loving life.

Get my free 15 minute quick overwhelm relief video at http://www.LoriThayer.com.
Disclosure: Please note that some of the links on this site are affiliate links and I will earn a commission if you purchase through those links. These are all resources that I am recommending because they are helpful and are companies that I trust, not because of the commissions that I may earn from you using these products. Please do not spend money unless you really need the resource and it will help you reach your goals.