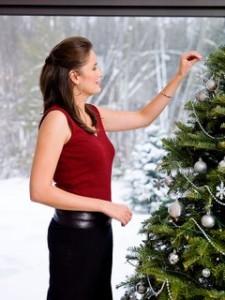 Preparing For Christmas
By: Lori Thayer
Christmas is a fun yet busy time. Sometimes even though we see the decorations and the ads start months ahead of time it often sneaks up on us. In today's article I'm sharing an outline of things to do while preparing for Christmas.
Start planning in November to get more done early so you have more time to enjoy Holiday festivities in December.
Mid-November  
Make a list of those you will give cards and, or gifts to.

Put holiday lights up outside while it is still warm outside but don't turn them on until after Thanksgiving.

Choose photos for Christmas cards and have them printed.

Order USPS boxes to mail your holiday gifts in. This will save you from having to stand in line (for a long time) at the post office in December.

Find gift jars, boxes, and bags for your homemade gifts. Thrift stores are a great place to find these.
End of November
Put up the Christmas Tree after enjoying Thanksgiving and put up all of your Holiday decor. We make this a special day by playing our favorite holiday movies and music while we trim the tree.

Turn the Christmas lights on outside. Set them on a timer so they turn on at dusk and off at dawn. The timer will ensure you come home to them at night and never have to remember to unplug them in the morning.

Start addressing your Christmas cards and writing personal notes in each card.

Begin preparing homemade Christmas gifts. If you are looking for ideas on what to make read our recent article.
Beginning of December
Prepare dough for Christmas cookies. Mix the dough up to a month ahead of time and freeze. This enables you to spread out the cookie work. Make several different kinds of dough over several months rather than in one marathon session.

Attend or host holiday parties in the first week or two of Christmas. Doing more prep work in November allows you more time to enjoy the festivities in December.

Diffuse Christmas scents and play holiday music to give your home a festive air.
Mid-December
Wrap gifts as soon as you have them and place them under the tree. A tree with wrapped gifts underneath is a joyful site.

Mail your Christmas gifts. Use the USPS boxes. Not only will they save you time and hassle, most likely you will save money as well. Print your postage using your printer at home and simply drop the boxes off at your local post office or UPS store. (or schedule a pick up)

Take the dough out of the freezer, thaw for a few hours and bake your cookies. (These can be Christmas gift too!)
What tips are musts for preparing for Christmas in your household? Share your thoughts in the comments below or on Facebook.

I seek to love and enjoy life, not just for a moment but the whole journey.

My mission

is to help you love and enjoy life too.

I've been stressed out, burned out, and hopeless and I clawed my way out of that place and now have the life I always wanted.

I see other busy women (like you) living the same busy pattern and my goal is to guide you on the path to enjoying and loving life.

Get my free 15 minute quick overwhelm relief video at http://www.LoriThayer.com.
Disclosure: Please note that some of the links on this site are affiliate links and I will earn a commission if you purchase through those links. These are all resources that I am recommending because they are helpful and are companies that I trust, not because of the commissions that I may earn from you using these products. Please do not spend money unless you really need the resource and it will help you reach your goals.