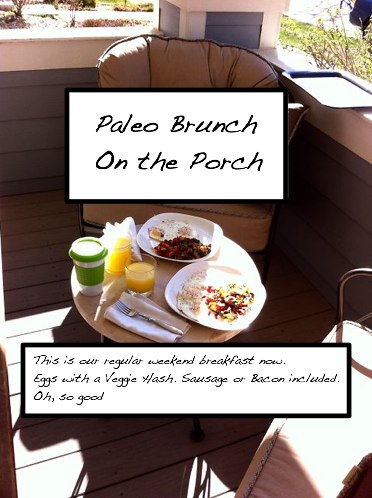 Optimize Your Nutrition With The Paleo Diet
By: Lori Thayer
What is Paleo
A Paleo Diet is eating the same way our paleolithic ancestors did. This is the diet humans ate up until about 200 years ago. This way of eating is very simple yet, surprisingly far from our typical diet in this day and age.
It consists of meat, seafood, vegetables, fruit, nuts and seeds. There you go. That simple…and yet, that hard. We are so used to convenience foods and bread or pasta with every meal that this way of eating seems difficult.
Why did I start this way of eating
I've struggled with hormone issues for the last 5 years or so, beginning with a diagnosis of ovarian insufficiency at age 30. This came about because I experienced hot flashes several different times in the preceding years when I quit taking birth control.

I currently take four different hormones every day, the most recent being a thyroid medication. The Doctor I met with who found diagnosed the thyroid issue in February 2012 suggested the Paleo Diet along with some resources to learn about it (The Paleo Solution). He told me the medication I was starting would make me feel better for a while but if my diet did not improve I would not achieve the best results.
I had considered trying Paleo previously. I knew I needed to make radical changes in my diet (even though it wasn't terrible to begin with) but it was so hard to do. I've always struggled with following strict guidelines.
I began reading The Paleo Solution and the detail and science included made sense and increased my motivation to really give this way of eating a try. My husband is very supportive and willing to try it along with me. We cleared out 80% of the non-paleo foods in the house, leaving the kids their oatmeal and milk and sugar to make sugar scrubs with. (This purge resulted in him donating the most pounds of food at the food drive his school was holding – I think we hit 70 lbs!)
Amazingly, the idea of eliminating all the grains and dairy didn't seem daunting to me. It seemed like a breath of fresh air and oh so simple. The fewer options felt like a relief from the overwhelming options at the grocery store.
Benefits I've seen in six weeks
I mentioned I wasn't good at strict guidelines right? So you won't be surprised to learn that so far I am only about 80-90% Paleo. Occasionally eating milk chocolate or adding hot chocolate mix to my coffee. While I still want to do a 30 day strictly Paleo trial I am amazed at the benefits I have found already:
Weight Loss – I've lost about 8 pounds. I was hovering around 155 lbs since the holidays finished. This is pretty heavy for me at 5'7". I didn't look fat but my size 8 pants weren't fitting so well anymore. I had been conscious of a need to lose some weight but it wasn't happening easily and I didn't have much energy for exercise. Once I started Paleo it just started to fall off. Even though I was regularly enjoying bacon, sausage, fruit and my occasional chocolate treats.
Improved Sleep – I've struggled with sleep for quite a few years. Sleep issues were the catalyst for me eventually finding I need to take bio-identical hormones. Even so I've continued to wake up every night and get up at least once a night for three or more years. about 3 weeks after beginning the thyroid medication and the Paleo eating I found I wasn't having to get up every night. After a couple nights I was shocked at this development. My Dr. said this wouldn't be a side effect of the thyroid medication so it has to be the dietary changes. Most likely the decrease in grains since I didn't consume a lot of dairy before. I consistently read that people sleep better with the Paleo Diet.
Improved Digestions – My digestion has improved greatly since beginning Paleo. My bowel movements are better and I have less gas or pain in my abdomen – enough said.
Mysterious aches and pains are going away – My body had been trying to tell me to make changes but I wasn't listening fast enough. I've struggled with heart palpitations and pain in the chest and throat area. These have gone away. If I eat too much off the Paleo Diet I will begin to feel an increased heartbeat or other odd reactions that seem much stronger now that I am listening harder.
Blemishes decreasing - This is something I noticed just this morning. I have several marks on my body that I obtained from injuries in 2011 that have never fully healed. They are beginning to look better. I suspect that as my body has better nutrition it can begin to do it's job more effectively.
Increased Energy - Energy is an area still improving for me but I've noticed significant increases in energy levels since starting the Paleo Diet and the thyroid medication. I know both are having an effect in my situation. While it will take a while for me to recover my strength I look forward to the boundless energy folks on the Paleo Diet report.
Resources to learn more about Paleo
There are many books on the Paleo Diet and some great cookbooks emerging as well. Many who eat Paleo don't use cookbooks, they simply cook their protein and vegetables with some spices and enjoy. I enjoy cooking and therefore am always looking for great recipes. See my Paleo Diet Books and Cookbooks Resources page for more information.
Interested in blogs that focus on the Paleo Diet in order to learn more? Check out the Pinterest board I created for Paleo Blogs for links to sites I recommend.
For Paleo Food ideas see my interest boards on Mouthwatering Paleo Recipes.
Have you tried eating the Paleo Diet? Please share your experiences and favorite resources below. Also note – by no means do I think Paleo is the only way people should eat. The most important thing is to listen to your body's needs and adjust what you are eating accordingly.

Interested in more ways to optimize your life? Receive regular tips to be more efficient, save time, enrich your life, and connect with others. Lori Thayer is passionate about finding ways to optimize your life so you can live your best life. Don't miss a tip, optimize your life by signing up today.