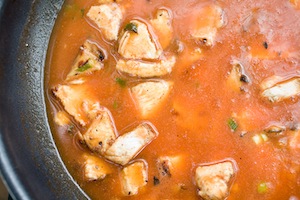 Make Multiple Meals For Your Effort
Looking for ways to optimize your time in the kitchen. Make meal preparation more efficient and cost effective by making multiple meals at one time. Not sure how to do this? Read on to see how we stretched two chickens into 3 meals. 
We vacationed with some friends. We decided to do a few beer can chickens. I got two at Costco for around $12.00. My husband is the beer can chicken master so he oiled them up, rubbed on some spices and put them on the grill. They actually got done pretty quick, in about an hour. So the first evening we had grilled chicken. (along with salad, bread and broccoli)
After the meat was cut off the chicken, I put the carcasses in water. I simmered them on the stove for a few hours to make some broth. This is a great time to add spices and some vegetables to flavor the broth. Then I let the broth sit overnight.
In the morning I strained the bones, meat and vegetables out. I had to make do with a paper towel in the strainer as a makeshift sieve to get the finer pieces out. Then the broth went back on the stove and some diced up chicken (cut off the day before) was added along with vegetables, spices and noodles to make a chicken noodle soup. Great lunch time fare. 
These two chickens fed 8 people for a couple days, with sandwiches being consumed for lunch the day after. With fewer people the meat from the second chicken might have gone straight to the freezer after being carved, or in the fridge to use in making chicken enchiladas or another favorite dish for the next night. We had fewer leftovers so the leftover meat was used in soup and sandwiches.
Using a few whole chickens allowed us to make several meals using whole foods (not processed) in a small amount of time. I feel better about what I'm feeding my family and am happy to get more use out of the chicken than just cutting it off the bones and throwing the bones out. Broth takes very little time to make (throw it in the crockpot while you are at work or out enjoying the day).
These types of meals take much less time than you would think. Optimize your time in the kitchen by making multiple meals at once. Need specific recipes? I use the Freezer Meal Plans.
Share your tips on how to optimize your time in the kitchen in the comments below.

I seek to love and enjoy life, not just for a moment but the whole journey.

My mission

is to help you love and enjoy life too.

I've been stressed out, burned out, and hopeless and I clawed my way out of that place and now have the life I always wanted.

I see other busy women (like you) living the same busy pattern and my goal is to guide you on the path to enjoying and loving life.

Get my free 15 minute quick overwhelm relief video at http://www.LoriThayer.com.
Disclosure: Please note that some of the links on this site are affiliate links and I will earn a commission if you purchase through those links. These are all resources that I am recommending because they are helpful and are companies that I trust, not because of the commissions that I may earn from you using these products. Please do not spend money unless you really need the resource and it will help you reach your goals.