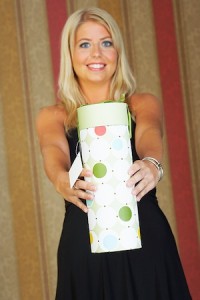 Make Gifts They'll Love
I love to make gifts that people can use. So many of us have way more stuff than we need or want. This year instead of buying something, make gifts that your family and friends will love.
Make Gifts That Soothe And Bring Comfort
Bathing Beauties 

Bath Salts – Use epsom salts and essential oils to make beautiful looking and smelling bath salts. Lavender essential oil is one of my favorites for the bath. Add 5 drops per cup and if you desire a color, use food coloring. Mix a few drops into each cup of epsom salts. Package in a lovely container with a ribbon.
Homemade Air Freshener – Fill a jar about 1/4 full with baking soda and add 6-8 drops of lavender essential oil (or another favorite). 

Candles

It's easy to make your own candles. Take an afternoon and you can easily make dozens of candles that make gifts that are lovely and smell great. View basic instructions here and don't forget the scents! I love essential oils to have a really great scent, bring in the aromatherapy and make sure there are no nasty chemicals. 
Make Food Gifts
Cookies – Cookies make a great gift. People love cookies and they evoke wonderful memories of childhood. Homemade cookies are easy to make and can be packaged beautifully as a gift.

Bread – Homemade bread is another fabulous treat. There are many lovely varieties you can make (not fruitcake though!). Check out the Artisan Bread in 5 days books for great, hassle free dough recipes.

Gift jars – make a mix for cookies, bread, soups, etc in a mason jar. Layer the ingredients to give it a pretty look and wrap with instructions and a ribbon.

Liquor – Make flavored liquor or even egg nog. Fruit infused liquors are fun to make and look very nice.
What homemade gifts are on your list to make this year. Share your plans in the comments below.

I seek to love and enjoy life, not just for a moment but the whole journey.

My mission

is to help you love and enjoy life too. I've been stressed out, burned out, and hopeless and I clawed my way out of that place and now have the life I always wanted.I see other busy women (like you) living the same busy pattern and my goal is to guide you on the path to enjoying and loving life.
Disclosure: Please note that some of the links on this site are affiliate links and I will earn a commission if you purchase through those links. These are all resources that I am recommending because they are helpful and are companies that I trust, not because of the commissions that I may earn from you using these products. Please do not spend money unless you really need the resource and it will help you reach your goals.