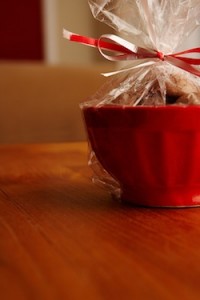 Ideas for Homemade 

Christmas 

Gifts
 By: Lori Thayer
Some people love the idea of giving homemade Christmas gifts and others think it is tacky. Which camp do you fall in and why? I love thoughtful gifts where you can tell the gift giver gave of themselves in the creation of the gift. Buying something in the store is much easier than giving time, effort and imagination. 
If you agree with me on wanting to simplify your life you have probably also realized that you don't need more stuff. Neither do your giftees. I have really gotten on board with the idea of consumable, act of service or experience gifts.
Let's discuss these ideas in more detail. 
Consumable gifts
What is a consumable gift? This is a gift that can be enjoyed and is used up, not lasting forever. Food gifts, lotions, and candles are examples of consumable homemade Christmas gifts.
Food Gifts – Food gifts can be pre-made food items like cookies, candy, pies or even an entire meal. Wrap it up prettily to make it even more special. 
Send a dozen of your famous cookies to a relative who lives far away and loves them. This gift can evoke fond memories of time you shared together at previous holidays when you enjoyed the same cookies together. 
Another food gift idea is homemade Vanilla Extract. I made this last year as a Christmas gift for many people.
Lotions, bath salts and candles can also be great homemade gift items. Use essential oils to make them smell pretty.
Act of Service Gifts
A service gift is when you do something for someone as a gift to them. You can create a coupon for the service that you use as the actual Christmas gift.
Did you ever give your parents a coupon for chores as a gift. They could then redeem the coupon with you to have you wash the dishes or whatever was written on the coupon.
This can also be used for adults. Give one to friends, offer to watch their kids so they can have a date night. Give one to a neighbor that they can redeem for you to mow their lawn or watch their pet while they are on vacation.
These can be a lot of fun and can strengthen your relationships, especially when you offer them to people who aren't expecting anything from you and would really appreciate the service you are offering.
Shared Experience
Some of the best moments in our lives are experiences we share with others. Create a special night with your Mom where you take her to a nice dinner and the Opera if that is what she likes. Take your kids to Disneyland as a Christmas Gift for the whole family. They may want that more than a video game anyway. 
Share your favorite for homemade Christmas gifts below or on Facebook.

I seek to love and enjoy life, not just for a moment but the whole journey.

My mission

is to help you love and enjoy life too.

I've been stressed out, burned out, and hopeless and I clawed my way out of that place and now have the life I always wanted.

I see other busy women (like you) living the same busy pattern and my goal is to guide you on the path to enjoying and loving life.

Get my free 15 minute quick overwhelm relief video at http://www.LoriThayer.com.
Disclosure: Please note that some of the links on this site are affiliate links and I will earn a commission if you purchase through those links. These are all resources that I am recommending because they are helpful and are companies that I trust, not because of the commissions that I may earn from you using these products. Please do not spend money unless you really need the resource and it will help you reach your goals.