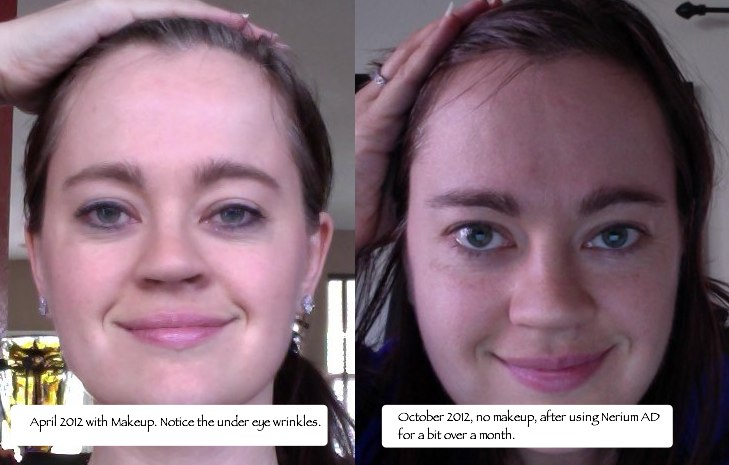 How To Get Great Skin
& Love Going Makeup Free
By: Lori Thayer
I've never liked being a slave to makeup. As many of you no doubt desire, I want to have great skin and be happy with my makeup free look. After I entered my mid-30s I found this was more difficult to do. I was having to use more concealer and really didn't want step outside with my makeup free look.
As you can see in the picture above I've made improvements in my skin and wrinkles in 2012. I am so happy with my makeup free look that I find myself wearing less or no makeup more and more often. 
If I choose to not wear makeup for the day I am still happy with my look every time I check a mirror. I can't recall the last time that happened. My skin care routine has also gotten more simple, just 3 steps at night and one in the morning, but more on that in the next article. 
How To Get Great Skin:
You must take good care of your skin by following some simple rules:

Clean your skin daily

Never go to bed with your makeup on (or the dirt and grime from the day)


Drink lots of water. Our bodies are mostly made up of water and your skin needs that water to be soft, supple and look it's best. Many wrinkles will lessen as you hydrate your body.

Nourish your body. Our bodies need real, whole food to get the nutrients and mineral to work properly. The better your diet the better your body will look. 

Use products that help your skin. The major change I made in the timeframe for the above pictures was adding a product called NeriumAD to my skin care routine.
Generally I would also recommend moisturizing but if you start to use NeriumAD you may find your skin no longer needs a moisturizer. (Mine doesn't)

What changes will you be making to get great skin and love your makeup free look? Share your plans in the comments below.
Interested in more ways to optimize your life? Receive regular tips to be more efficient, save time, enrich your life, and connect with others here: optimize your life 
Lori Thayer is passionate about finding ways to optimize your life so you can live your best life. Don't miss a tip, optimize your life by signing 
up today.