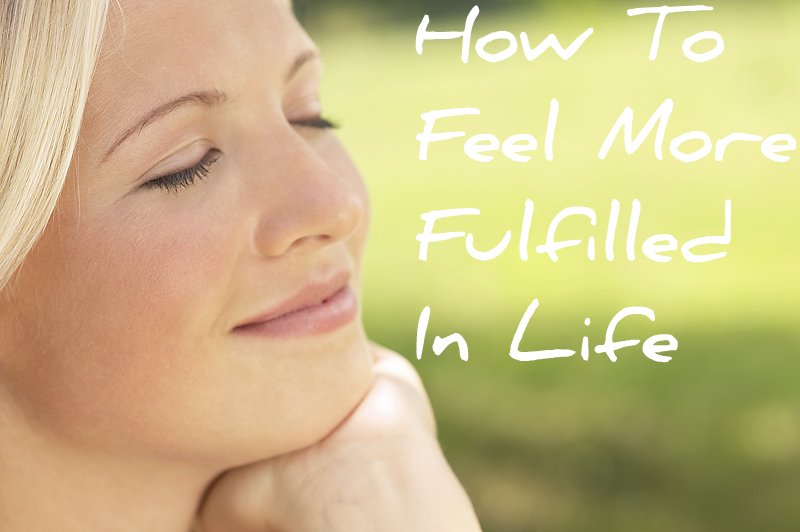 How To Feel More Fulfilled In Life

By: Lori Thayer

Want to feel more fulfilled in life? Sometimes we feel stuck on the hamster wheel always trying to get more done but wondering why we're running? So often what we really need is to find our purpose, feel happy and fill our soul but we don't know how to get there.

It's easy to spend what little extra time we have trying to figure out how to get more done. But, at the end of the day is getting more done really going to make you happy and make you feel more fulfilled?
You've probably read tips on efficiency, multitasking and how to get more done on this website. It's easy to focus on efficiency for our pressing day to day activities rather than really dig in and find the deeper meaning. We all feel the need to get more done but is this really valid? Does packing more into our day really bring more happiness, joy and greater fulfillment?
Take a moment to make a list of 5 things that really fulfill you. Don't stress over it, just list what makes you happy, gives you purpose, and/or speaks to your soul.
Is it helping others, learning something new, seeing your children smile. This doesn't have to be a comprehensive list or perfect. It is just a quick exercise to get you thinking about what things make you feel more fulfilled.

Here are the five I was able to come up with in two minutes:
Sharing tips and information that help other people

Learning to understand myself better

Enriching my life by expanding my mind and learning new things

Connecting with family and friends on a deep meaningful level

Positively impacting the health of my family, friends, home and myself.

I have to say that just reading through this list brings a smile to my face.
Now that you have a list compare the activities that fill your day to the list. This exercise will help you start to identify which of those activities contribute to you feeling more fulfilled and which may just be time fillers.

For example, let's say one of your items is to spend quality time with your children. If you spend hours each day driving your kids to their various activities but feel you never get a chance to talk to them something is out of balance.
Identifying where you are out of balance means you can then examine those areas and look for ways to make changes. For the above example possible changes are:
Limiting your children's activities, maybe they have too many

Making more of an effort to connect with them while you drive them to/from their activities

Participating in their activities as well, possibly by coaching or volunteering in some way

When we focus in on family, friends and what truly brings us joy and purpose we are happier. Spending your time on what makes you feel fulfilled will bring you long term life satisfaction.

Share your list of 5 things that make you feel more fulfilled in life in the comments below
Interested in more ways to optimize your life? Receive regular tips to be more efficient, save time, enrich your life, and connect with others here: optimize your life.
Lori Thayer is passionate about finding ways to optimize your life so you can live your best life. Don't miss a tip, optimize your life by signing up today.