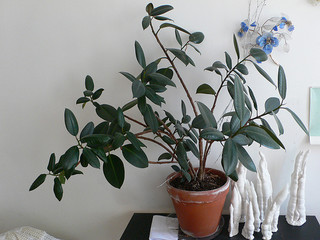 Photo courtesy of Creative Commons 2.0, hanna.sandin
Healthy Home: 10 Tips to Freshening The Air in Your Home
By: Lori Thayer
Home is where the heart is. Sometimes it gets a bit stuffy though. Every once in a while it seems the air in the house is stagnant and not very fresh. No wonder with all the chemicals we get from the fabrics, paint and furniture that is in our houses. With spring here it is time to freshen the air in your healthy home.
Clean out the vents – you can dust and clean out the tops of the vents yourself or pay for a "duct cleaner" to do a professional cleaning.  
Dust – Thoroughly dust all surfaces, window sills, ceiling fan blades and baseboards.  Dust your plants too, wiping down the leaves will leave them and you healthier. Note: The brush attachment to the nozzle on your vacuum can make this really easy.
Vacuum – Thoroughly clean your carpets and rugs.  It's time to move the furniture and get underneath as well. Go over each section a few times. You may also want to assess whether your vacuum cleaning is doing a good job.  Note: You may need to clean out the brushes on the bottom to improve the vacuum's performance.
Use White Vinegar to clean your floors.  White vinegar is a natural deodorizer.  
Set out some baking soda.  Baking Soda is regularly kept in most people's refrigerators to absorb odors.  Set some out in various rooms in your home to do the same job!  Make this a beautiful addition to the room by putting the soda in a decorative container.
Use indoor plants to clean the air.  There are quite a few plants that can help clean the toxins from your air all year long.  All you have to do is water them regularly, what a bargain.
Use indoor herbs and flowers to add wonderful, natural scents to the air
Clean the sheets, bedding, blankets, and pet beds.  Sheets generally are cleaned quite often but bedding blankets and pet beds need regular cleaning too.  Clean these items quarterly.
Open the windows.  Let in a fresh breeze to clear the stagnant air and push the polluted air out.  Be sure to open at least one window on each side of the house to get the breeze blowing through house to really get air moving.  Note:  Opening a few windows at night is a great way to clean out the air while you sleep.  Bonus: The cooler air might even make you sleep better.
Use Thieves or another non-chemical freshener to clean your air.
How are you making your home healthier this year?  Share your tips in the comments below.

I seek to love and enjoy life, not just for a moment but the whole journey.

My mission

is to help you love and enjoy life too.

I've been stressed out, burned out, and hopeless and I clawed my way out of that place and now have the life I always wanted.

I see other busy women (like you) living the same busy pattern and my goal is to guide you on the path to enjoying and loving life.

Get my free 15 minute quick overwhelm relief video at http://www.LoriThayer.com.
Disclosure: Please note that some of the links on this site are affiliate links and I will earn a commission if you purchase through those links. These are all resources that I am recommending because they are helpful and are companies that I trust, not because of the commissions that I may earn from you using these products. Please do not spend money unless you really need the resource and it will help you reach your goals.