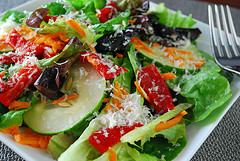 Photo courtesy of Creative Commons 2.0, SliceOfChic
Healthier Dinner With 1 Easy Change 
A healthier dinner is obtainable. Small steps will make it easier. Today we will start with 1 easy change: starting dinner with a salad. 
Benefits of starting dinner with a salad
It's quick and easy to make

Consume more vegetables during dinner. Of course we want more vegetables for better health and nutrition.

Eat fewer calories overall
Making the salad
Purchase a bagged salad mix – if you aren't used to making salad and think it will take too much time start with a prepared mix. Sure it is a little more expensive but if this is what you need to get started do so. Purchase a  large bag of mixed salad, including dressing. The ones from Costco will last 2-4 dinners. depending on the size of your family.

Gradually switch to making your own salad. We use spinach as the foundation for most of our salads. Then add some additional vegetables to the salad. Tomatoes, carrots and cucumbers are great on a salad. We often add black olives for the taste and the good, healthy fat.

Dressing – Start with store bought if that is where your family is. We did this for a long time. We recently switched to making our own mix of Balsamic Vinegar, Olive Oil and Garlic. It is healthier and tastes wonderful.
How to get your family eating salad
Make salad the first course of the meal. There is no other food on the table until the salad is eaten.

If your kids or husband is picky start with a very simple salad (no extra vegetables). Over time add in additional vegetables. We require our kids to eat their entire salad before starting on the entree. Some of the toppings are optional, e.g. we don't require them to eat all the almond slivers or olives.

Let each person choose which dressing to use and how much they want to put on. Some kids may not want any dressing at all and that is perfectly alright. Over time move to healthier dressing options.

Bottom line – don't give your family a choice. Everyone is going to eat salad before dinner. Play with different salad types and you may find certain types are more popular. Over time they will get used to the salad and even like and request it. 

To engage your children more have them make the salad for dinner. If they've made it they are more likely to eat it.
Have you tried starting your family on a healthier dinner? Will they eat a salad before dinner? Share your success and challenges with us in the comments below.

I seek to love and enjoy life, not just for a moment but the whole journey.

My mission

is to help you love and enjoy life too.

I've been stressed out, burned out, and hopeless and I clawed my way out of that place and now have the life I always wanted.

I see other busy women (like you) living the same busy pattern and my goal is to guide you on the path to enjoying and loving life.

Get my free 15 minute quick overwhelm relief video at http://www.LoriThayer.com.
Disclosure: Please note that some of the links on this site are affiliate links and I will earn a commission if you purchase through those links. These are all resources that I am recommending because they are helpful and are companies that I trust, not because of the commissions that I may earn from you using these products. Please do not spend money unless you really need the resource and it will help you reach your goals.