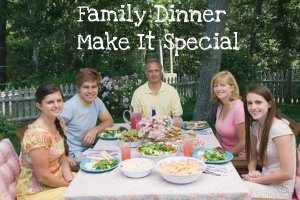 The Ultimate Guide To Making Your Next Family Dinner Special

The family dinner table is the perfect place to connect with your family. Dinner is a sacred time for families where everyone can be together while you eat. In this article we will cover ways to make dinner special, what to talk about and the benefits everyone can receive.

How To Make It Special

Music – We put on a Pandora station most of the time, streamed from our Roku in the living room. Engage your kids in this ritual and let them pick a station some nights.

Candles – Light a few candles and turn the lights down. Turn off all the other lights in the house. This really makes the dinner setting special and the focus of the entire family.

Centerpiece – A lovely vase of flowers could be a nice centerpiece. Adding a few extra touches creates the ambiance you want.

Table setting – Use a nice tablecloth and set a lovely table. We use cloth napkins everyday.


Food presentation – Feel free to make the plate presentation nice as well. My husband loves to do this (you should see his artistic salads). I am a bit more impatient so this isn't my strong suit. If this is an area where you are interested it will make even the most basic dish into a special meal.
What To Talk About

What happened during the day. Ask each member what the best thing about their day was. Specific questions are always better than the general "how was your day". Ask about an activity that you know happened that day for the other person. Each member should take part in the discussion, answering as well as asking questions.


Family schedules. Make sure everyone knows what is going on for the week. Parents and kids should be clear on who is picking up and dropping off their kids at all times.

Goals for the next day, next week and next month. Ask your kids to talk about what they want to achieve in these time frames and share your goals as well. You can all be accountable to each other and celebrate your victories.
Benefits Everyone Receives

Kids can

Learn manners. Appropriate dinner manners are very important and something that is often overlooked in our rushed schedules.


Learn appropriate dinner conversation

.

Kids learn from their parents what is appropriate and what isn't. We teach our kids that only the best behavior is allowed at the table. You will thank yourselves for teaching this lesson when you eat at a restaurant with your kids.

Learn about food. Talk about what you are having, what ingredients go into the meal. Ask your kids if they recognize the vegetables being served. Did you see Jamie Oliver's Food Revolution where many kids couldn't name the vegetables.

Don't be afraid to try new dishes. It takes kids many tries of a food to really determine if they like it. So have them take at least 1 bite each time you make that food.

Many of these lessons need to be taught over and over. This can be especially true with a special needs child. My youngest stepson still needs reminding even though he's had these lessons over an over. If we don't spend this time with our kids teaching them how do we expect them to learn?


Everyone eating together

Helps open the communication channels between all family members

Gives parents a chance to hear how their kids are feeling about what is happening in their day


Allows parents more control over the nutrition their entire family receives
Other family members can participate too. Our cat visits us most nights at dinner. She stops by with her toy and wait patiently (most of the time) for us to finish. She knows that as soon as my husband pushes his chair back that she can jump on his lap for "daddy time".  After a few minutes of that it is playtime. Sometimes she is the highlight of dinner with her frisky impatience. (I keep hoping to get a good video of this behavior to share with you all)

Do you eat together with your family every night, most nights or occasionally. Share your experiences in the comments below. What does dinner time look like at your household.

I seek to love and enjoy life, not just for a moment but the whole journey.

My mission

is to help you love and enjoy life too.

I've been stressed out, burned out, and hopeless and I clawed my way out of that place and now have the life I always wanted.

I see other busy women (like you) living the same busy pattern and my goal is to guide you on the path to enjoying and loving life.

Get my free 15 minute quick overwhelm relief video at http://www.LoriThayer.com.
Disclosure: Please note that some of the links on this site are affiliate links and I will earn a commission if you purchase through those links. These are all resources that I am recommending because they are helpful and are companies that I trust, not because of the commissions that I may earn from you using these products. Please do not spend money unless you really need the resource and it will help you reach your goals.