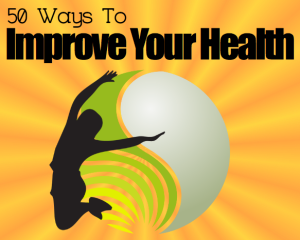 50 Ways To Improve Your Health

By: Lori Thayer

Choose one of these 50 ways to improve your health today. Practice the method regularly to maximize the benefit to your wellness. When it has become a regular part of your routing, add another item. Keep adding items and you will begin to see your stress level decrease and your health improve.

Improve Your Health By De-stressing and Relaxing
Take a relaxing Bath

Meditate

Take 5 deep breaths for an immediate calming effect


Take a walk

Laugh (have more fun)

Get a massage

Get acupuncture

Tap away your stress
Enrich your mind (brain health)
Practice the 5 minute daily energy routine
Ground yourself – connect with nature more to improve your grounding or use a grounding mat such as the Earth Divine Mat (I sit on one while I work on the computer)


Make peace

Practice gratitude – count your blessings
Improve Your Health With a Healthy Environment
Clean the air in your home
Protect yourself from EMFs
Make the air in your home healing (by diffusing essential oils)
Disconnect for a weekend, turn off your phone and your laptop (make it easier on yourself by going camping or changing your routine)

Improve your Health By What You Consume
Boost your water with healing essential oils
Start you morning with a smoothie
Try a Paleo Diet
Prepare your meals ahead of time
Join a CSA

Consume your vitamins through diet, not supplements

Limit your coffee intake

Get rid of your microwave

Drink hot water with lemon to start and end your day
Improve Your Health At The Physical Level

Wear a pedometer and go for more steps

Try burst training

Take a sauna

Jump on a rebounder

Spend time in the yard (and soak up some sun)

Balance books on your head (improve your posture)

Stretch

Play active video games with your family (kinect)

Practice Yoga

Dry brush your skin

Floss your teeth
Improve your Health By Improving Your Sleep
Get blackout curtains

Put electrical tape over all the lights in your bedroom
Improve Your Health When You Improve Your Connection With Others
Connect with your spouse

Call a friend

Plan an active date with your spouse or friends

Get a pet – pets bring a lot of happiness to your life and improve your overall wellness

Share which method you will begin using today in the comments below.

Interested in more ways to optimize your life? Receive regular tips to be more efficient, save time, enrich your life, and connect with others
here: optimize your life.
Lori Thayer is passionate about finding ways to optimize your life so you can live your best life. Don't miss a tip, optimize your life by signing
up today.