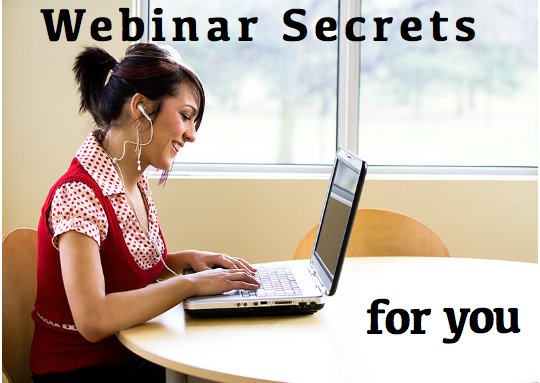 5 Webinar Secrets For You

By: Lori Thayer

I bet you are like me…you love to learn and find yourself attending many online webinars. Get even more out of your next online training when you follow these 5 webinar secrets: Set your intent, be unavailable, fully engage, take notes and wear a headset.

Webinar Secret #1: Set Your Intent

You will get more out of your next webinar when you set your intent. Why does this matter? It helps set your state of mind for the event. When you are clear on what you want your mind will zero in on that information.
How this worked for me recently: In a recent call I was on the trainer asked us to also listen to the call from a marketer's perspective. With this in mind I kept a separate set of notes analyzing what she was doing during the training. I can now use this information to improve my own work and to create content online.

Webinar Secret #2: Be Unavailable

Of course I don't mean be unavailable for the actual webinar. You want to be unavailable to anyone else during this time. If there is something you want to learn during this session don't shortchange yourself by answering questions or having to disengage from the call to take care of an argument between your kids.
Sometimes this is unavoidable but do your best to set this time aside and let those at home or around you at work know that you will be unavailable for the next hour.
This is one of those pesky put yourself first things we keep being reminded of by…oh, everyone. You teach others how to treat you so let them know that your time is valuable and that they can send an email or leave a message and you will get back to them in x amount of time.

Webinar Secret #3: Fully Engage

Participation will keep your mind fully engaged on the topic at hand. It is too easy to pop over to Facebook while listening and get engrossed in your friend's latest rant. Pretty soon you no longer hear what is being said.

You chose to attend this webinar for a reason. Remind yourself of the intent (secret #1) and rein in back in. To accomplish full engagement you will want to put secrets 4 & 5 into place.
Webinar Secret #4: Take Notes

Whether you prefer written notes or electronic, take notes while you listen and watch the webinar. Your brain will be more fully engaged. The act of writing notes will also help you retain and assimilate more of the information you are learning. (You will also be able to go back to these notes later)

Most of the time I take notes in Evernote during the session. This key also prevents me from being tempted to start surfing the web (a webinar attendee catastrophe).
Webinar Secret #5: Wear A Headset

To get more out of a webinar you need to be an active participant. We've already covered several ways you can do this.
Lastly you will want to listen in on a headset. When a webinar allows for participation from the attendees you want to have the best possible chance of participating.
You are investing your time and likely some money for the webinar. To maximize what you are getting you want to have a chance to ask a question or get some 1-1 coaching during the call. If you have a noisy background or are getting an echo or other sound problem you will lose out on that chance. I've seen this happen time and time again.
You will get the most help and most valuable feedback when you wear a headset with a good microphone piece so you have good sound quality to talk to the trainer. Don't sell yourself short, headsets are cheap, go get one!

Share with us how these webinar secrets help you.

Interested in more ways to optimize your life? Receive regular tips to be more efficient, save time, enrich your life, and connect with others
here: optimize your life.
Lori Thayer is passionate about finding ways to optimize your life so you can live your best life. Don't miss a tip, optimize your life by signing
up today.