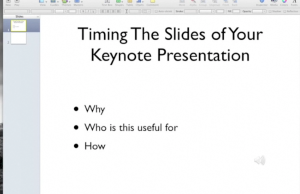 Create a Keynote Presentation Video: Timing The Slides
By: Lori Thayer
Our tech tutorial for today is the third in our Keynote Video Series. This tutorial will demonstrate timing the slides of your keynote presentation.

There are a couple reasons why you may want to time your Keynote slides rather than manually advance them.
Have a pre-prepared presentation that another person can start.

Allow the presentation to move along on it's own while you engage with your audience and answer questions as needed.

Record the slide presentation with the timing already set so you won't "record" your keystrokes in changing the slide along with your audio.

Set a specifically timed audio track to a slide that has the same timing.
Timing The Slides:
There are several ways to affect the length of a slide including the slide transition time, element build in, build out and action time.
To time a slide, start with the slide transition time
Timing the slide transition time

Click the inspector

Go to the second tab, Slide

Under Start Transition, choose Automatically

Select a delay time (note: I've found you must use the arrows to set the time rather than enter in a number)

 You can also time the build out and  build in of images, text or other actions. These are not shown in the video, but you can access those via the third tab, build.
Check out the other videos in this series: How To Add Audio To A Keynote Presentation and How To Record Yourself With Garage Band.
Share your thoughts on this article, Create a Keynote Presentation Video: Timing The Slides, with us in the comments.

Lori Thayer is passionate about finding ways to optimize your life so you can be more efficient, feel more fulfilled and find balance as a busy mompreneur.
Learn the tools to optimize your life today.