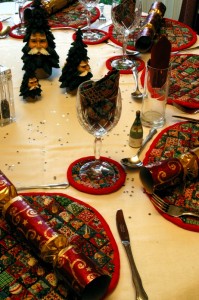 Holiday Planning – Food, Guests, Decor & More
By: Lori Thayer
Recently we discussed some holiday tips for Christmas Preparation. Today let's focus in on Holiday Planning in the areas of Food, holiday decorations, guests and how to have some fun while doing it all. A little holiday planning means less stress and more time to enjoy the season and connect with others.

Holiday Decorations

This article, Planning For The Holidays: Holiday Decorations, focuses on how to make decorating for the holidays more for you and how to get the whole family involved. The decorating may get done quicker if you do it all yourself but where is the festivity in that.
Slow down and enjoy the season more when you decorate with friends or family. Make it an event and enjoy it. I've started to bring in more fresh scents with garlands, a real tree and essential oils like Christmas Spirit and Idaho Balsam Fir. As I write this article I am listening to a new Pandora playlist I started with a Holiday Jazz CD title. The music is lovely, soothing and festive and puts me in the right spirit.
Holiday Food
Food is an area where we sometimes go a little crazy. I freely admit to over stressing and over doing food for holiday gatherings and parties. It is easy because we all have our favorites and often save them for this time of year.
In Planning For The Holidays: The Food, I'll offer some tips to help you prepare for your holiday gathering. Don't fall into the trap of doing everything yourself. We don't look back and wish we had done more of the work ourselves, we look back and lament we didn't spend that time with our loved ones. So involve your kids, family and friends in the food preparation and serving. Your holiday experience will be all the richer for it.

For general holiday food one fabulous tip is to make your holiday cookies early and freeze them. Start now, make a batch today. When the cookie dough is ready, form into balls or drop from spoon onto a cookie sheet (depending on dough consistency) and flash freeze. Once the dough is frozen, place the cookie balls in a zipper bag or other freezer safe container. Be sure to squeeze out as much air as possible. When you are ready for cookies you can take these and bake them one at a time – is there anything better than cookies fresh from the oven?

Preparing For A Holiday Party – The Guests
Holiday planning when guests are involved doesn't have to be tricky. Follow some simple guidelines shown in Planning For The Holidays: The Guests, and there will be no need to worry.

When you are the holiday guest bring a gift of appreciation for your host or hostess. Even if they don't ask that you bring something a bottle of wine or batch of your famous cookies are always appreciated.

Holiday Planning – Plan Some Fun For Yourself
Too often we play the host and focus so much on making everything perfect for everyone else that we don't consider ourselves. As the host or hostess plan your event so you will have time to enjoy the gathering as well. Some essential tips for how to do this can be found in my article, The Host Gets To Have Fun Too.

What have you learned that will help you in your holiday planning? Tell me in the comments below.

Interested in more ways to optimize your life? Receive regular tips to be more efficient, save time, enrich your life, and connect with others here: optimize your life.
Lori Thayer is passionate about finding ways to optimize your life so you can live your best life. Don't miss a tip, optimize your life by signing up today.