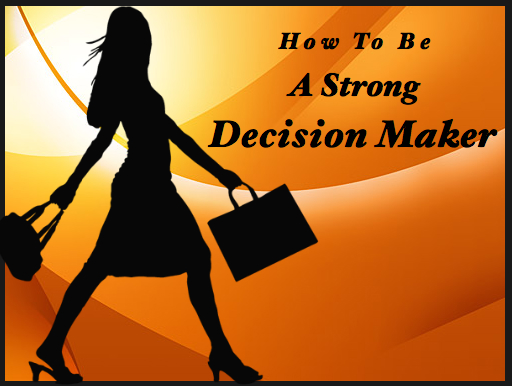 To Be A Strong Decision Maker As The CEO Of Your Own Life

By: Lori Thayer


Making strong decisions is at the core of being a good CEO for your life. The CEO must be the primary direction maker and taker. Making decisive decisions is critical to defining your path and being able to take action.
If you want to have the life you desire. You need to make the decisions today that will bring you closer to that goal. Not sure you are making good decisions right now? If so try a few of these strategies for better decision making:
Fail Your Way To Success

Assess your failures, what can you learn from them? Ask yourself what you learned about yourself after the failure. Did you listen to your guy or ignore it and later experienced regret?
Often we can truly start to understand ourselves through our failures. We can begin to identify our weaknesses or tendencies that may not serve us as CEO of our business.
Own Your Strengths and Outsource Your Weaknesses

Make better decisions when you with your strengths rather than against. As you identify weaknesses look for ways to outsource activities that play to those weaknesses. For example, if maintaining your website is a hated task and a time suck for you, you can easily hire a virtual assistant to handle those tasks.
Stop The Blame Game

It can be easy to beat ourselves up after a mistake or failure. When you find yourself going into blame consciously stop and refocus.
You can't change the past, so choose to move forward. You may want to asses what you learned as previously mentioned or simply focus on moving forward. Tackle the next item on your to-do list.
Tip The Scales To Make Better Decisions

Weigh the choices to improve your decision making. There are a number of ways to weigh choices, consider:
Playing out the choices in your mind. Walk yourself through each decision and what the consequences could be.

Consider what the worst case scenario is. Does that scenario make the choice and absolute no-go or is it acceptable.

Keep the end goal in mind. Is the choice in line with your 1, 3 and 5 year goals? If not it probably isn't the right choice.

What does your gut tell you? Our intuitions are amazing and often this "gut feel" will point us in the right direction.

Are you overly emotional about this decision? If so, don't make it right now. Give yourself time to calm down and then come back to the decision making process again when you are calm.

Which improvement in decision making will you implement today? Share your plan in the comments below.


Interested in more ways to optimize your life? Receive regular tips to be more efficient, save time, enrich your life, and connect with others
here: optimize your life.
Lori Thayer is passionate about finding ways to optimize your life so you can live your best life. Don't miss a tip, optimize your life by signing
up today.