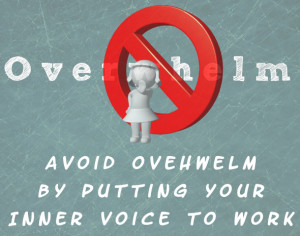 Avoid Overwhelm By Putting Your Inner Voice To Work
By: Lori Thayer
Sometimes it can seem impossible to avoid overwhelm. When you are in it, you probably feel like there is no way to get out. There is just so much to do and so much happening that you can hardly see straight. It's possible to put that little inner voice that is constantly reminding you of what needs to be done and criticizing you to work.

As I mentioned in the video above, the best way to use your inner voice to avoid overwhelm is to use it. The next time you start to question yourself make a list of those things that are running through your mind.
When you simply push it to the back and ignore it you are only causing more overwhelm in your life. The issue you are trying to push to the back will simply continue to pop back up trying to get your attention.
Instead of ignoring it, put it to work. Look at the list of items you wrote down that keep popping up and are causing overwhelm in your life. Choose 1 item and analyze it. What can you do right now to resolve or improve this issue? Choose one tactic, make a small change and then continue on.
If the issue arises again do another round of analyzing and adjusting. As you begin to work through these issues that pop up they will stop plaguing you. You are taking action to improve your life and these things that are holding you back and throwing you into overwhelm.
Avoid overwhelm by using your inner voice and making adjustments to what you are doing and how you are doing it, rather than just trying to shove the voice aside.
Share your thoughts on this article, Avoid Overwhelm By Putting Your Inner Voice To Work, with us in the comments.

Lori Thayer is passionate about finding ways to optimize your life so you can be more efficient, feel more fulfilled and find balance as a busy mompreneur.
Learn the tools to optimize your life today.