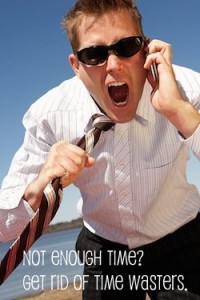 Not Enough Time? Get Rid Of Time Wasters
Are there time wasters in your day, sucking up all that precious time, preventing you from doing the things you really want to do? There probably are and they might not be the usual suspects either. Watch my vlog on identifying time wasters in your life.
Are some of these time wasters for you?
Books you aren't enjoying or learning from

Movies or TV you are watching out of habit

Excessive social media time

Magazines you aren't really getting anything from but you read it because you have a subscription

YouTube videos on cute animals (or music videos)

Video or smartphone games

Parties with people you don't like

Hanging out, but not connecting with your friends


Getting distracted and thus having a task take twice as long

Being involved in a group or community event due to a sense of obligation but you don't enjoy it or get something from it?

Going to the gym when you really hate it? (there must be another method of physical activity you would enjoy)
What is on your list of time wasters and what would you rather be doing? Share your thoughts in the comments below.
Some of my time wasters include:
Going to the store – This is not  a chore I enjoy and I often get distracted and was too much time while there

Reading (or listening) to books that I am not enjoying or are not enriching my life

Getting distracted on social media and an hour quickly goes by

Multi-tasking sometimes results in really inefficient work on a task. I must repeat to myself "watching a movie, while writing an article results in the article taking three times as long to write."

Checking email too often
Some of the things I can replace that wasted time with:

More productivity during my work time

Make more progress on my pile of books to read (by quickly cutting out the ones I don't enjoy)

Go ice skating with my family in Evergreen 

Go hiking more often with my husband

I seek to love and enjoy life, not just for a moment but the whole journey.

My mission

is to help you love and enjoy life too.

I've been stressed out, burned out, and hopeless and I clawed my way out of that place and now have the life I always wanted.

I see other busy women (like you) living the same busy pattern and my goal is to guide you on the path to enjoying and loving life.

Get my free 15 minute quick overwhelm relief video at http://www.LoriThayer.com.
Disclosure: Please note that some of the links on this site are affiliate links and I will earn a commission if you purchase through those links. These are all resources that I am recommending because they are helpful and are companies that I trust, not because of the commissions that I may earn from you using these products. Please do not spend money unless you really need the resource and it will help you reach your goals.