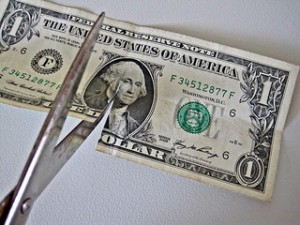 Photo courtesy of Creative Commons 2.0, Images_of_Money
5 Tips To Cut Monthly Bills
Stop hating to open your mail, cut monthly bills. There are many ways to decrease your monthly bills. Today we'll detail 5 tips to cut monthly bills: pay on time, shop around, decrease waste, cut out the unnecessary and reduce fees.
Always Pay On Time
Pay your bills on or ahead of time to avoid late charges. Paying bills late often become a slippery slope and the fees begin to mount up quickly.
The easiest way to do this is to schedule the payment online immediately upon receiving the bill. Alternately schedule the payments automatically through the service provider or with your bank. In this instance be sure you continue to check the bill each month for any unexpected charges.
Shop around at least once a year
Shop around for better rates on car, home and life insurance. Don't be afraid to shop for a better deal for your mortgage, car loan and banking services as well. These can be more of a hassle to change but the savings might be worth it.
Decrease waste
Wasting less results in saving more.

Use low flow shower heads to save gallons during a 5 minute shower.


Turn off lights when leaving a room.

Turn off and unplug electronics that don't need to be left plugged in (most of them).

Reduce your trash by buying items with less packaging and recycling. If you have to pay for trash pickups or trash overflow this can save a lot.
Cut out the unnecessary
What monthly bills are you paying for but not using. Consider these areas:
Movie Services 

Gyms

Satellite or Cable TV Service

Newspaper or magazine subscriptions
Reduce Fees
Fees can be sneaky. Check each bill carefully so you are aware of new or changing fees. The biggest fee offenders are credit cards and banks. 
What are the biggest changes you've ever made that has cut monthly bills? Share your ideas with us in the comments below.

I seek to love and enjoy life, not just for a moment but the whole journey.

My mission

is to help you love and enjoy life too.

I've been stressed out, burned out, and hopeless and I clawed my way out of that place and now have the life I always wanted.

I see other busy women (like you) living the same busy pattern and my goal is to guide you on the path to enjoying and loving life.

Get my free 15 minute quick overwhelm relief video at http://www.LoriThayer.com.
Disclosure: Please note that some of the links on this site are affiliate links and I will earn a commission if you purchase through those links. These are all resources that I am recommending because they are helpful and are companies that I trust, not because of the commissions that I may earn from you using these products. Please do not spend money unless you really need the resource and it will help you reach your goals.