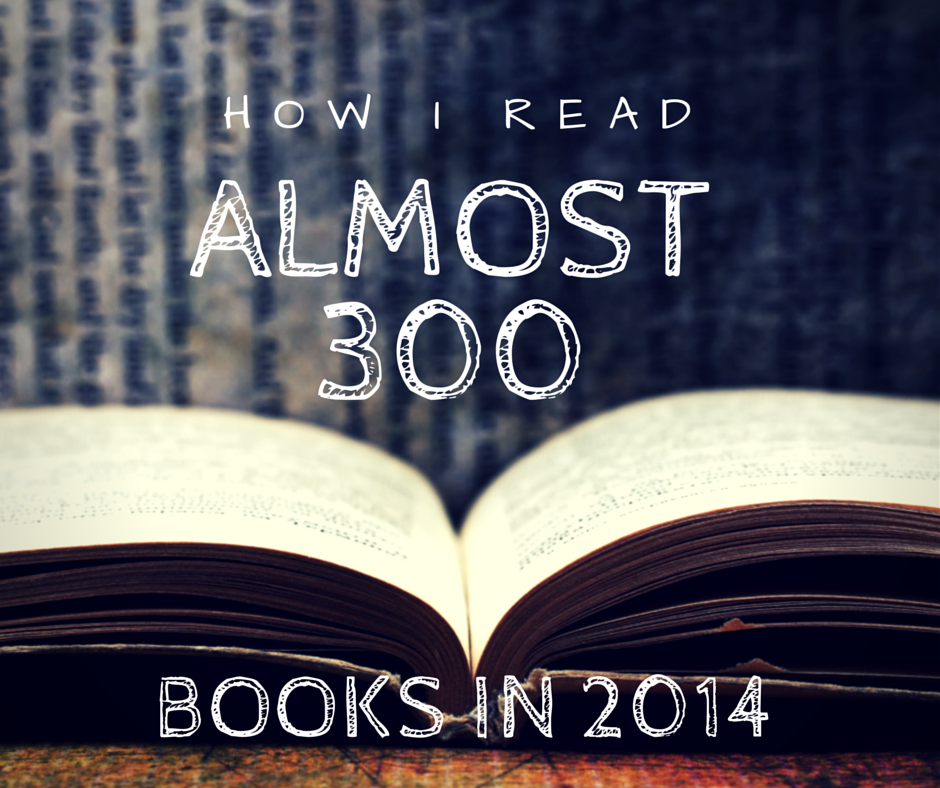 Do you love to read? I certainly do and I often read about 100 books a year. However in 2014 I blew that number out of the water, reading almost 300 books. I wasn't trying to read a lot of books but…things just went that way. In this article I will share how that was possible.
5 Keys to Reading Almost 300 Books
Key #1 Audiobooks
Listening to audiobooks makes it a easier to read a lot of books. I've been listening to audiobooks since around 1997 when I started listening to them regularly during a repetitive job.
I usually listen with either the Overdrive or Audible application. The Overdrive books are public library checkouts, making reading more affordable! I have a 2 book/month subscription to audible as well for the books I want to read that I can't get from the library.
In 2014, I greatly increased the number of audiobooks I listen to by listening at 1.5 to 2 times the normal speed. Sound crazy? It is when you first start, but after a while it's really hard to listen at regular speed. I started listening to online trainings and such at higher speeds in 2013 and gradually increased the rate I listen at.
As I got more used to the faster speech I used it on audiobooks.
The Overdrive and Audible apps both have speed controls built in. Other audio or videos can be sped up using Swift (on iOS) or MySpeed (on your computer).
Key #2 Listen to books while you work, drive, exercise, etc.
I usually have several books going at once and I bring reading or listening to books to many of my activities. Listen while you cook dinner, work in the garden or other activities.
By far listening while I'm at work gets me the most additional reading hours in. Sure there are times I need to turn the book off since I have to concentrate more on what I'm doing and sometime I miss pieces of the book because my focus isn't entirely on the book. I get the gist of what is going on though and the books keep me more entertained.
A lot of people tell me they can't even conceive of listening to a book while working or some other activity that requires some mental work. I suspect that many haven't really tried it though. So, give it a shot. Start with listening while gardening and activities at home. When that is easy try listening to a book for an hour while at work, assuming this is possible with your work situation.
Key #3 Make more time for physical reading
I read physical books in bed at night, during long, luxurious baths, while in my sauna and when I'm a passenger on road trips.
I check out physical and eBooks from the library and purchase a few for my kindle.
Key #4: Keep track of the books you are reading
I track my book reading with Goodreads.com. I also set a challenge number every year. I've always been a reader and I love being able to look back at what I've read. (often because I can't recall an author name of if I read book 4 in a series or not)
Key #5: Read for enjoyment
Sure reading books for growth and to improve your life is great. But…don't give up reading for pleasure. It is so much fun. Your mind gets the freedom to picture and expand upon the story you hear. I gave up TV almost entirely years ago and books are a much better source of entertainment and enjoyment for me.
As I mentioned, I wasn't trying to read 300 books in 2014, I think it was more of an "at home" year for me. I started out January 2015 with more books read than there are days in the month but that has tapered off a bit. (thank goodness)
 Busy with too much to do? Get my FREE audio and experience Quick Overwhelm Relief!

I seek to love and enjoy life, not just for a moment but the whole journey.

My mission

is to help you love and enjoy life too.

I've been stressed out, burned out, and hopeless and I clawed my way out of that place and now have the life I always wanted.

I see other busy women (like you) living the same busy pattern and my goal is to guide you on the path to enjoying and loving life.

Get my free 15 minute quick overwhelm relief video at http://www.LoriThayer.com.
Disclosure: Please note that some of the links on this site are affiliate links and I will earn a commission if you purchase through those links. These are all resources that I am recommending because they are helpful and are companies that I trust, not because of the commissions that I may earn from you using these products. Please do not spend money unless you really need the resource and it will help you reach your goals.