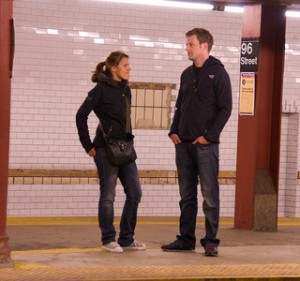 Photo courtesy of Creative Commons 2.0, Ed Yourdon
3 Ways To Improve Your Relationship Tonight
Relationships take work. Whether you are very happy in your current relationship or are experiencing some difficulties improvements can be made. Today's article will detail 3 ways to improve your relationship tonight: be focused, say thank you, and put the past behind you.
Be Focused
The first step to improve your relationship is to focus on your mate. Be fully present and engaged when you are with them. This means they get all of your attention.

Put the phone and computer awaWant y. We have all felt ignored when our loved one checks their phone at the table or even just looks out the window rather than at us while we are talking.
If necessary go for a walk with your mate away from all of the distractions to give yourselves time to focus on each other.
Say Thank You
How often do you thank your mate for the things they do for you? Do you even realize what those things are? Thank them when they do something nice. This will help them and you.
It is positive feedback to your mate that lets them know their help is valued. When we feel good about doing something we are more likely to do it again. The same is true for knowing which things have the greatest value to our mate. If they don't tell us, we don't know.
Saying thank you to your mate helps you as well. Being grateful for all the assistance and love our mate gives us will make us happier. Focusing on the positive and showing gratitude brings more positive into your life.
Put the past behind you
We all make mistakes. Put past relationship challenges and issues of contention behind you. Whether the challenge is with your current mate or another stop letting it color your thoughts and actions. 
Discuss events that are happening now and don't let past events color your perception. For example if your mate is often late don't constantly bring up how his/her lateness causes problems. This just makes them sad and angry. They can't change the past and certainly won't be motivated to change in the future if you continue to berate them about it. Instead clearly state when you would like them to arrive and why it is so important to you. Send them reminders or help them set up their own. Use a positive method to bring about change.
This is definitely a challenge and a method that requires attention and practice. We often fall into a rut of bringing up the past to justify our actions or thinking. Creating a new path in our thoughts and actions takes time. 
How will you implement these tips to improve your relationship. Share your thoughts with us in the comments below.

I seek to love and enjoy life, not just for a moment but the whole journey.

My mission

is to help you love and enjoy life too.

I've been stressed out, burned out, and hopeless and I clawed my way out of that place and now have the life I always wanted.

I see other busy women (like you) living the same busy pattern and my goal is to guide you on the path to enjoying and loving life.

Get my free 15 minute quick overwhelm relief video at http://www.LoriThayer.com.
Disclosure: Please note that some of the links on this site are affiliate links and I will earn a commission if you purchase through those links. These are all resources that I am recommending because they are helpful and are companies that I trust, not because of the commissions that I may earn from you using these products. Please do not spend money unless you really need the resource and it will help you reach your goals.