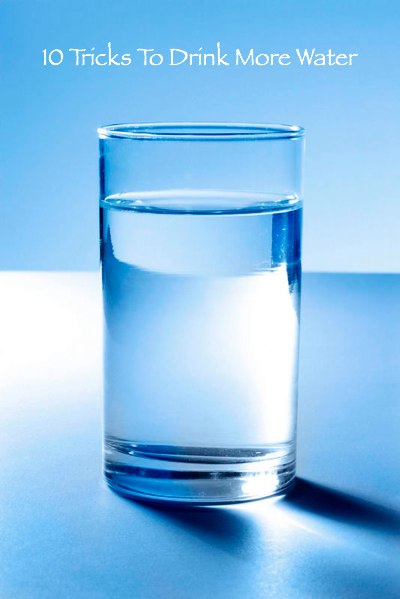 10 Tricks To Drink More Water
Drink more water to flush toxins from your body.  Water is great for your health. A lot of water in your system leaves your skin looking great and helps to keep your body healthy. It can seem difficult to drink water sometimes, today's post is all about tricks to drink more water during the day.
Start the day off right
Drink water immediately upon waking up – Start your morning off with a large amount of water to get things moving.  
Make your water taste better
Flavoring – Flavor your water to make it more enticing. Essential oils that are safe to ingest are what I use. Peppermint and lemon are my favorites.  Fruit is a great option as well. Slices of lemon, lime or orange are fun and add great flavor. 
Filter it first – Filtered water tastes better and removed impurities. No need to buy special water, simply get a pitcher that filters. We have a system that filters all of our tap water. Many refrigerators with water dispensers have filters as well.
Use a glass container – Water from a glass tastes better. It is also more attractive. Entice yourself to drink more by using a special glass.
Track your progress
Use rubber bands – To drink 8 glasses of water, slip 8 rubber bands around the bottle. Each time you finish a glass remove one band. This way you can see your progress as the bands dwindle.
Fill containers to see your progress – Another great way to see how far you are progressing is to fill all of your water bottles in the morning.  To drink 6 liters, fill up enough bottles for that much. Then as you drink the water your progress will be obvious with the fewer bottles.
Keep track – Track how much water you are drinking in a journal, an app or an online program. iTunes has an interesting app called Waterlogged that does this and has a lot of great reviews.
Use reminders
Be prepared – Have the water with you at all times. Bring it in the car, take it to a meeting. If it is right in front of you, you will be more likely to drink it.
Keep a schedule – Schedule reminders on your phone or the app you are using to keep track of how much you are drinking.
Check in with a friend – Resolve to drink more water with a friend. Check in with each other daily for support.
Share your tips for drinking more water in the comments below.

I seek to love and enjoy life, not just for a moment but the whole journey.

My mission

is to help you love and enjoy life too.

I've been stressed out, burned out, and hopeless and I clawed my way out of that place and now have the life I always wanted.

I see other busy women (like you) living the same busy pattern and my goal is to guide you on the path to enjoying and loving life.

Get my free 15 minute quick overwhelm relief video at http://www.LoriThayer.com.
Disclosure: Please note that some of the links on this site are affiliate links and I will earn a commission if you purchase through those links. These are all resources that I am recommending because they are helpful and are companies that I trust, not because of the commissions that I may earn from you using these products. Please do not spend money unless you really need the resource and it will help you reach your goals.