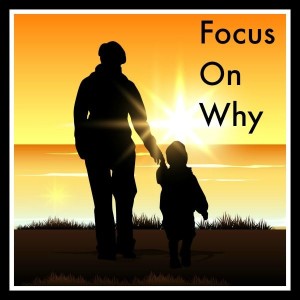 Today's 30 Days of Love topic is unplanned, but inspired by events that occurred yesterday. I propose that we focus on why we are doing an activity (love perhaps?). Keeping this focus rather than allowing ourselves to fall into frustration or anger over a small annoyance will result in more love in our lives (and certainly less frustration).
This thought comes after reflection and frustration over making dinner last night.
Where You Get When You Don't Focus On Why
Let's back up a few days. My husband and I went out to dinner this weekend and I enjoyed a fabulous portobello mushroom ravioli at Olive Garden. I commented that this would be a good meal to feed our two teenage boys.
So on Monday night I decided to give it a try. We already had some baby portobello mushrooms. I looked up a few recipes, created a list and got what I needed at the store.
I started prepping around 4:15. A fair amount of cleaning vegetables and chopping was necessary. I always make a recipe my own so I threw in a few additional ingredients. 
I didn't want to make pasta dough from scratch so I decided to use won ton wrappers as several recipes mentioned them as an option.
The first hints of frustration came when trying to fill the won ton wrappers. I found they didn't stick together well and you really couldn't put much of the portobello mix inside. I did my best but was a bit worried that they would stay together when I cooked them in the boiling water.
Around this time my husband and the boys got home and my husband helped by working on filling the wrappers while I made the sauce. I was pretty happy about the sauce although on first taste my husband said it tasted like "potato soup" <frown>. (he didn't know what we were making)
The sauce was ready (I put it on low to keep warm) and the water was boiling and ready. I started putting in the "raviolis". Many of them started losing their filling. It was very disheartening.
I completed several rounds of cooking the raviolis but got more and more frustrated. I was grumpy and swearing at this point.
I've got to admin – I don't like fancy recipes that are complicated and take a LOT of time. I am more the Rachael Ray type of cook. Quick and easy comfort food is more my style.
My husband loves the complex recipes with sauces that take hours. So he was enjoying himself and I'm mad. At this point I don't even want to eat the food. I just want to throw it out. (if it would have just been me I probably would have)
But I've got to feed my family so I decide to quit boiling the raviolis in water and pan fry them. Not at ALL the texture they should be but they need but what are you going to do.
This works much better and things move more quickly. However cooking all the raviolis still takes quite a while. By the time they are ready the sauce has condensed a bit. <sigh>
So we call the kids down. I add some pineapple and strawberries as well as carrots and hummus to round out the meal.
I plate each meal spooning sauce over raviolis and adding fresh cut basil and peccorino cheese on top. The food looks great.
I must admit my husband and the boys were very happy with the meal but it didn't work for me. (and of course I get more annoyed because of the wasted time)
Focus On Why
So it was some good and some bad. But reflecting on it today, I can see that focusing on preparing and feeding my family a meal out of love would have been a much better focus.
Who cares about all the little trials along the way. The important thing is the love and care that went into choosing that meal as one the family would like and preparing it with them in mind.
Where can you focus on why and bring more love into your life…just by changing your focus?

Lori Thayer is passionate about finding ways to optimize your life so you can be more efficient, feel more fulfilled and find balance as a busy mompreneur. Learn the 
tools to optimize your life
 today.
Disclosure: Please note that some of the links on this site are affiliate links and I will earn a commission if you purchase through those links. These are all resources that I am recommending because they are helpful and are companies that I trust, not because of the commissions that I may earn from you using these products. Please do not spend money unless you really need the resource and it will help you reach your goals.   
{ 0 comments }