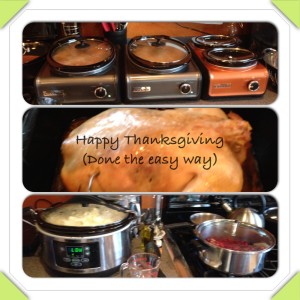 This past Thanksgiving I hosted the dinner. It had been about 7 years since I've planned and prepared the entire holiday meal (Christmas or Thanksgiving). 
Despite being out of practice and hosting a baby shower and a holiday party at my house the previous week, I was the most stress free holiday hostess I've ever been.  
Want to be a stress free holiday hostess yourself? I'll share some of my tips.
This photo is from our Thanksgiving meal. 
Stress Free Holiday Tips:
Make a meal plan:
Choose the dishes you want to make
Select the recipes
Write your shopping list of items needed (whatever you don't already have on hand)
Shop at least 3 days ahead of time (for a holiday, the earlier the better for less crowded stores)
Prepare what you can ahead of time
I must admit. For this particular meal, I didn't prepare as much ahead of time as I wanted to.  
Many side dishes or foods needed for your meals can be prepared ahead of time.
Here are some examples of what you can prepare ahead of time for a Thanksgiving dinner:
Bake the pie (most desserts can be prepared ahead of time – take advantage of that)
Pre-bake the rolls for the meal (you can always warm them up in the last 10 minutes)
Pre-measure or prepare ingredients. E.g. peel potatoes for mashed potatoes, chop garlic, tear up bread for stuffing and more
Make some side dishes ahead of time, like mashed potatoes. If you want to prepare dishes more than a couple days ahead of time be sure to look for a freezer friendly recipe before you start to cook. 
Note: We stopped using a microwave this year. This can impact the amount of time you need to thaw any items frozen ahead of time so be sure to plan accordingly.
Allow others to contribute
My husband wanted to brine the turkey. This turned into him being mostly responsible for cooking the turkey as well. Yay! As hard as it can be to give up control when you let others help things can move much smoother.
Other contributions were from my stepson, who made the pie and some rolls. My mother-in-law also contributed a fabulous brussel sprout dish (who knew brussel sprouts could be good?) and a lovely dessert.
Another way to let others contribute is to allow them to set the table, and to do some of the cleaning before and after the event.
There is no reason you have to do everything yourself. It is more fun when you make it a group effort. Everyone feels they contributed and can enjoy the special occasion more.
Take some time to relax early in the day
Since my husband put the Turkey in to roast, I didn't have to get up quite as early.
Instead I used the time for a nice, relaxing bath. After that I did a little online work and then began cooking. 
I put on some good music and took breaks in the cooking to dance in the kitchen with my husband.  
Sprinkling in fun activities will make the entire process more enjoyable.
Use smart tools to aid the process
There are a lot of great tools available to today's cook. I actually only turned on the oven to warm up my Mother-in-law's side dish. This was possible as I used a Nesco Oven Roaster  to cook the turkey. I bought this device about 10 years ago because I was frustrated with the holiday cooking  need to juggle dishes in and out of the oven.
This year the cooking process became much easier due to my recent acquisition of the Crockpot Hook Up system. These are individual Crockpots that hook into each other  so only one plug is needed. There are a variety of sizes. They take up less spaces for storage and on the counter than a traditional oval 5 or 6 quart crockpot. I currently have 3 hook up units and I used them all. Each unit has it's own temperature control. 
I would do a little preparation and then simply put the side dish in the crockpot to finish cooking. The two smaller spots were used at the end to keep sauces warm.
I also used my large 5 qt Crockpot for the mashed potatoes. I made these from scratch. I made such a large batch that I had to prepare them in a large stock pot and then transfer them to the crockpot after they were mashed. We later added hot green chilis to most of the mashed potatoes but kept a bit separate for those who didn't want hot chilis.
 Other smart tools to use to create a stress free holiday meal are a food processor, hand mixer, and a food chopper. Before purchasing extra tools be sure to consider how often you will use these items.
We decided to get the Crockpot hook up system since we knew we would use it at least 4 times between this November and December. After using it 3 times already I am sure it will become a weekly tool for meal preparation. 
A few last tips
For a holiday feast, be sure to take the opportunity to use your best dishes. We got out my great-grandmother's china and some lovely crystal glasses. These items have to be washed by hand after the meal but they make the occasion more special.
Our Holiday Meal:
21 lb Organic Turkey (mostly made by Bret)
Homemade gravy
Homemade green chili mashed potatoes
Sweet Potatoes
Stuffing
Homemade cranberry sauce
Pumpkin pie (made by my stepson)
Rolls (made by my stepson)
Brussel Sprouts (made by my Mother-in-law)
Pretzel Rollo Pecan bites (made by my Mother-in-law) sorry I'm not sure of the name of this item
Wine: Reisling
Non Alcoholic Option: Sprite and Cranberry Juice
The only missing item: Lefse (I forgot about it until the meal, probably the first time I've missed out on it for a holiday for 10 years)
Share how your last holiday hosting was. Were you A Stress Free Holiday Hostess? 

Lori Thayer is passionate about finding ways to optimize your life so you can be more efficient, feel more fulfilled and find balance as a busy mompreneur. Learn the 
tools to optimize your life
 today.
{ 1 comment }